The Complete AAP™ Features
The Complete AAP™ comes in two editions to help your company complete your affirmative action plan reporting requirements. A breakdown of each edition's features is available below. The Standard edition is designed for smaller single location companies that need a quick 100% compliant affirmative action plan solution. All report options are pre-set and locked to recommended values for fast AAP creation and peace of mind. The Pro edition is the perfect choice for single-location companies, larger multi-location companies, and consulting firms that require complete reporting customization.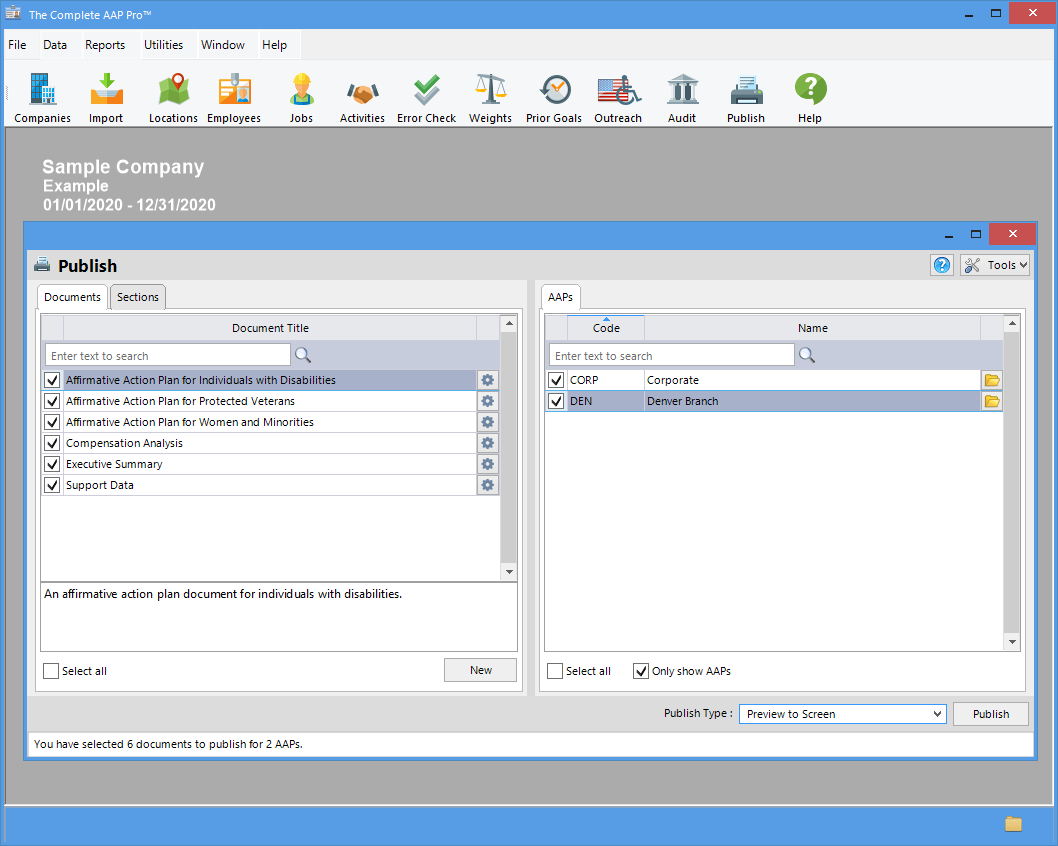 STANDARD EDITION
$1,000
For Single Location Companies
Annual Subscription
Order
Subscription Includes All Software Updates And Support
Software Updates Can Automatically DownloadAnd Install Silently
100% Compliant Reports For A Single Location
All Women And Minorities, Protected Veteran AndIndividuals With Disabilities Requirements
Easy Importing Of Workforce And Activity Data
Everything Is Included No Additional Modules Necessary
Easy To Read Current Plan Year Analysis
Publish Your AAP To Multiple Formats IncludingPDF, Word and Excel
Easy Mid-Year Updates
Executive Summary Report
Compensation Analysis, IncludingSalary Regression And Cohort
All Census Areas Included, Worksite And Residence
Build Unlimited Custom Census Areas
Automatically Assign Census Codes To Jobs
IPEDS Educational Data Included
Data Is Stored Locally, Not On A Vendor's Insecure "Cloud"
Personal Support Via Phone, Internet Chat, Email
Training Available
Audit Guidance
PROFESSIONAL EDITION
$2,000
For Multi-Location Companies & Consulting Firms
Annual Subscription
Order
All Standard Edition Features, plus...
Publish Plans And DocumentsFor All Locations With One Click
Adjust 1,000+ Report Options To CompletelyCustomize Your Company's Reporting Requirements
Company Logos, Watermarks, PDF Password Protection
Create Custom Documents And Report Sections
Automatically Creates Weighted Census Areas And
Promotion Feeder Groups For Underutilization Reporting
Import Data Using Up To 10 Available Templates.
Selectively View Jobs, Job Groups, And DepartmentsThat Are Assigned To Employees
Utilize Up To 15 User-Defined FieldsFor Salary Regression Reporting
Audit Window To Help Facilitate Reporting For6 Different Audit Types
Workforce Data And Activity Data Error CheckingTo Help Find And Auto-Fix Errors And Inconsistencies
Functional Affirmative Action Plan (FAAP) Capable
EEO-1 Reporting And Upload File Creation
And Much More...